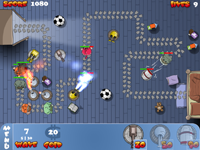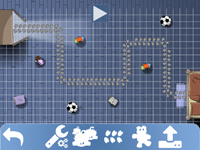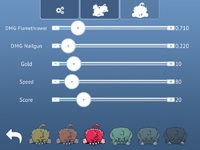 Remember those dark nights spent terrified of monsters under the bed? Well now it's time to strike back!
Stop the cute Squabies with merciless weapons before they reach your bed in this classic tower defense game. Place the weapons strategically in the right spots along the monster's path to your bed. Earn gold for each stopped Squaby stepping out of your closet to build and upgrade towers - the scoring system rewards clever gameplay and bring you to the top leaderboard ranks.
Play in 10 thrilling levels created by the V-Play team and defend your bed in thousands of user-generated levels. You can then even create your own levels in minutes and share them with your friends and the player community. Collect rewards and spend them on new levels and challenge your friends or other gamers in the world.
Squaby is an easy to play and hard to master tower defense game, usable by everyone for free.
Free to play and new levels daily.
Extend your bed to an invulnerable fortress.
Build your own levels and share them with thousands of gamers worldwide.
Collect rewards & achievements for building cool levels.
Per-Level leaderboards showcase the best strategic players.
Full source code of Squaby available in V-Play SDK - build your own Tower defense game in no time!
Bonus Details: